Hello and welcome to my website,
If you feel the  effect of Covid has changed your life to the point of feeling very lost I still offer Face to face, telephone, video link and online consultations and sessions for clients who are finding it difficult to adjust to a way of life covid has brought. My help and support are just a phone call or email away and although contacting may feel like a difficult step to take you will find it's the  most beneficial step.
There are many things in life that get us down and there are times in our life when life itself can overwhelm so we can lose sight of a way forward. Whatever your issue, allow me help you to gain the reasons and understanding, why you feel the way you do at present.
I  am fully accredited and specialise in working with assisting clients with PTSD, Relationships, Anger, Stress/Anxiety, Addictions, Depression, Self Harm, Eating Disorders, Bereavement, Weight Problems, Illness/Disease, as well as many other issues clients bring to therapy.
I will guide you to reach a better understanding of situations in your life and a better understanding of yourself.  By learning new coping mechanisms you will find solutions that will bring new choices, so you feel you can trust yourself and others again.
You may be concerned about your future prospects. I will guide and work with you showing you how to live in the here and now, leaving your past behind, so your future stops feeling overwhelming or scary.
I have many years experience of running my private practise from my home. Counselling adults. the elderly young teenagers and families. My work takes place in a safe and comfortable allocated room, where confidentiality is given at all times.
The type of counselling I use is an integrative way, working with different types of models. CBT (dealing with thoughts and belief's), Transactual analysis (looking at behaviours and coping mechanisms), Psychotherapy (looking at childhood experience)
I'm a fully Certificated Practitioner of PTSD. This therapy helps to release the effect from the trauma that has changed the clients life completely.  Other therapies I'm also a Certificated Practitioner of are EFT, EMDR and Hypnotherapy.
The most appropriate therapy fitting your needs and issue will be always be discussed during your consultation. This ensures you get the most out of your therapy.
Successful counselling, comes from a good relationship and rapport between client and counsellor. It is very important to me, that I can help you feel comfortable and for you to know that I will show complete understanding of your issue at the first point of contact.
My work is my passion and I am totally devoted, to helping you through any issue, no matter what that may be. You will find me  very friendly, patient, a calming influence.  I will put you at ease, showing empathy, support and someone you can trust.
I am a registered  fully qualified accredited and supervised Counsellor, Hypnotherapist, Reflexology  and Reiki Practitioner, and also an accredited registered member of the National Counselling and Hypnotherapy Society.
My Therapy Room (Braintree, Essex, CM7 1BP)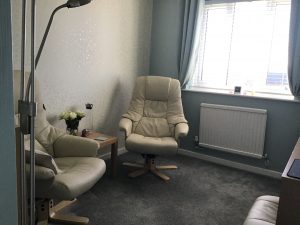 My therapy room is a peaceful haven, for you to feel comfortable to express all that you have held back from expressing before.
It is very easy to reach my practise as I am very local to Braintree town and train station. So all surrounding areas Suffolk, Colchester, Chelmsford, and London are very manageable.
Thank you for taking time to read my website page. I hope you found the information very helpful to you.
Please feel free to contact me if you have any further information you would like to know, or if you would like to book a consultation.
You can contact me by:
Email – amandasmiths674@gmail.com
Mob – 07398373782
Landline – 01376 550570 answering machine available
I respond to all enquiries between working with clients, so you will not be left waiting.
 Amanda